---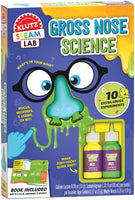 Klutz STEAM Lab Gross Nose Science Book & Activity Kit
Immerse yourself in the science of snot!
Following along with the 32-page book, kids will get to explore 10 unique experiments on sinus-based anatomy, make sense of scents, and even whip up a batch of boogers, all while learning how snot, mucus, and nose hairs protect the body.
It comes with a fake, squishy sneezer for experiencing the snot in action, a petri dish for growing their own germ cultures, plus soapy activities for observing how germs can be eradicated.
A runny nose has never been so fun!
Discover the wonders of congestion with the Klutz Steam Lab Gross Nose Science kit.
Klutz Steam Lab - Gross Nose Science
Kit for exploring the science of snot and nasal anatomy
Encourages direction-following, logic, STEM skills, an interest in healthcare
10 experiments to explore
Features soft, squishy nose with materials to make snots that can be squeezed out
Grow germ cultures safely in a petri dish
Explore soapy activities to see how germs can be eradicated
Learn how snot, mucus, and nose hairs protect the body
Includes squishy nose, 2 plastic nose hair plugs, 2 bottles of not snot ooze, mucky mucus, not snot powder, agar powder, petri dish, measuring beaker
32-page book with anatomy, experiments, and more included
High-quality materials - Exceptional experiment-and-learn experience